Information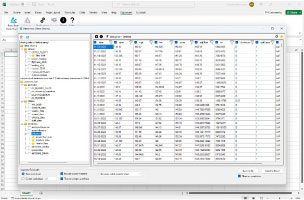 Big data is not just for data professionals. Cloud data is not just for engineers and technologists. BIG DATA IS FOR EVERYONE. With the Exponam.Connect Excel Add-in, business users and analysts can work with Delta data directly in Excel.
It's Easy:
If a user can create a filter in Excel, they can work with billions of rows of Delta Lake data
Business users work with data where they want it, in Excel. No new applications to install or learn
There is no complicated set-up.  No ODBC connections or configurations
Delta Sharing Tables appear in the table view – Just select a table and start working
Users can also save millions of rows to a secure file for easy sharing, distribution, and archive
It's Powerful:
Create filters to easily pull down the current day's (or week's or month's) data
Save filters and re-use them whenever needed
All the Excel functions users love –> v-lookups, pivot tables, charts
Unlock the power of internal and marketplace cloud data
It's Efficient:
Cost Effective: Software limits data egress to minimal data sets and no server processing.  Cheaper than ODBC or other connection to the data which involve cloud compute fees
Fast:  Intelligent data downloading and synchronous processing
Guarded:  Users are protected against inadvertent large downloads or unanticipated fees.  Maximum Excel import is 5 million rows spread over 5 sheets
Secure:  Secure data transfer direct from cloud repository to requesting system
Licensing
The Exponam.Connect Excel Add-in is a "freemium" product. It is free to install and use in unlicensed mode. Unrestricted use and access to premium features will require a license.
For an Individual license, purchase here.
For Enterprise licenses and pricing, contact us now.
Comparison of Unlicensed vs. Licensed Use
| | Unlicensed | Individual License | Enterprise License |
| --- | --- | --- | --- |
| Cost | Free | $50 USD/month | Discounted based on user count & usage type |
| View Delta Share data | ✔ | ✔ | ✔ |
| Filter rows and select columns to import | ✔ | ✔ | ✔ |
| Import up to 1,000 rows of data to Excel | ✔ | ✔ | ✔ |
| Write up to 1,000 rows of data to csv | ✔ | ✔ | ✔ |
| Import 5,000,000 rows of data to Excel per extract (unlimited extracts per licensed user) | | ✔ | ✔ |
| Write unlimited size data files to csv | | ✔ | ✔ |
| Write unlimited size data files to .BIG | | ✔ | ✔ |
| Access to new, premium features | | ✔ | ✔ |
| Web based FAQs | ✔ | ✔ | ✔ |
| Email support | | ✔ | ✔ |
| Complete support packages | | | Available |
| Company provenance details and properties stamped on Excel sheet and export files | | | ✔ |
| License for full .BIG builder product suite | | | Available |