Exponam .BIG files are highly portable, secure, and tamperproof data files for sharing data.
Instantly access and explore millions of rows of data in an easy to use spreadsheet.
Query data with the performance of a database.
SHARE
.BIG™ FILE FORMAT
The Exponam .BIG file format is a ground-breaking achievement in portable data documents
Data: .BIG files hold hundreds of millions of rows of data
Optimized: Files are ultra compressed for efficient sharing and storage
Secure: Architected to be the most secure data file on the market
Tamper-proof: Content is unalterable, digitally fingerprinted, and signed
File access control: Centrally control user access and permissions, even after file is sent, ensuring data security
EXPLORE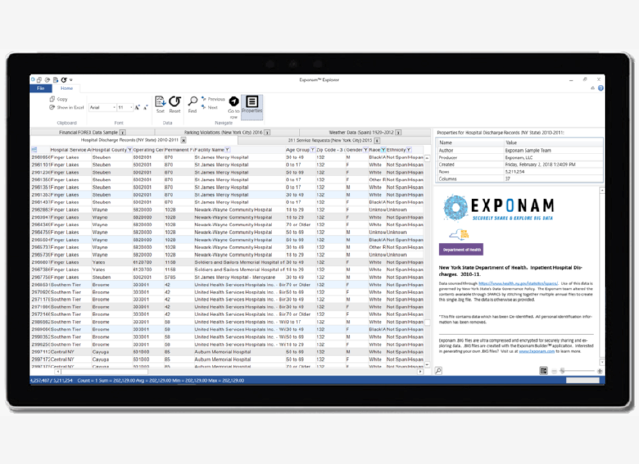 THE .BIG™ EXPLORER
A Spreadsheet viewer of unprecedented power
Instantly open files with 1s, 10s, 100s of millions of records
Sort and filter – easily identify desired data
One Click export to MS Excel
Solutions
Data Access and Exploration
Do you have trouble accessing data on the go?
Visualization tools and summary reports are great. But, as the saying goes, "the devil is in the …" Sometimes, you need the data for detailed analysis when you're not connected and to share specifics when you're back online.
Read Our Solution
​Data Security
Your Data is Not Secure.
You protect your data repository. You protect your network.  Yet, thousands of data files are extracted and downloaded from your repository. These CSV and XLS files reside on your network drives, on employee machines, in the public cloud, and in employees email. These data files are the most vulnerable point of attack for malicious actors.
Read Our Solution
Data Efficiency
​Access Data Faster.
Transferring and uploading large data sets is slow.  What if you could access data orders of magnitude faster than now?  What if hours were compressed to seconds?
Read Our Solution
.BIG Integration for Enterprise Software
---
Your users routinely download data. They generate CSVs which sit unprotected, take up vast space, and are impractical for exploration (over 1mm rows).
NOW THERE'S AN ALTERNATIVE.
Augmenting an Enterprise Solution with .BIG file generation vastly enhances a customer user's ability to extract detailed data from the system. Users can download millions, 10s of millions, or 100s of millions of rows of data. The data is highly compressed (3-4x better than zipped CSVs), easily accessed, and fully secure.

Industry Stories
Financial Services
High volume trading organization with on premises databases.
The firm uses a combination of custom reporting and Business Intelligence tools for a summary view of their trading activity. However, sometimes, their regulatory compliance and fraud teams need access to underlying data to dig into activity flagged by their systems.
Read Our Solution
​Political Marketing
Data Distribution Company
A political marketing firm regularly distributes voting and polling lists to its clients. These lists can be several million records in size. The firm's clients don't have an easy way to review, sort and break-down the data.
Read Our Solution
Technology Startup
​Cloud-based Data Integration and Cleansing Firm
This technology startup compiles data from numerous sources, standardizes, and cleanses it for analysis. The primary analysis artifacts are a series of report which summarize and aggregate the data. One of the primary functions available to users is to download an extract of the underlying data sets.
Read Our Solution
ex∙pōnam
Latin, [ex∙pōnam] verb (first-person singular active)
To set forth, explain, expose.
Like What You See?
Want to create your own .BIG™ files?
Want to slash data sharing and migration times?
Want full encryption? Want to dynamically control who can open files and when?
Want to integrate directly with your company's data sources, on premises or in the cloud?
Want plug and play integration with your existing Reporting and Business Intelligence tools?
Message the Exponam Team to get started!